Marketing is a communication medium that conveys the product's message, whatever the brand offers to the target audience. This conversational marketing is a unique one in conveying a message in a sensible way to the views. Let's have a more in-depth discussion on the roots of conversational marketing today.
Conversational marketing :
Conversational marketing clarifies the buyer's issues and douts through an online platform to increase the sales to a vast extent.
Websites use chatbots to convey the message and clarify the customer's issues in making the purchase decision on their products and services.
It also brings out the similar questions available to spot out related to the question you asked. It makes us get to know more about a particular product and service.
Conversational marketing takes the relationship that you have with your customer to the next level. By this, people get to know why they have to stay with your brand.
Chatbots :
Chatbots are the famous technology in conversational marketing. Chatbots are an automated service seen in many websites that are pre-programmed to answer the users' questions. Users can get an instant response, and they can get clarified with their doubts in less time than be waiting in a long queue.
Live chat
Livechat is one of the conversational mediums that you can see on many websites. If the application has an update with new features and the users may have some issues and queries when experiencing the latest update. To overcome this, a special live chat session is also included at the update to clarify the user's doubts and ensure the user experience significantly through the update provided.
The medium or tool that is making the conversation with the people to increase sales is categorized as a conversational marketing tool. Some of the tools are Email Marketing, Forms, Landing pages, FAQs, Voice applications, and more.
Conversational marketing strategies :
They are four,
Engage
Understand
Recommend
Repeat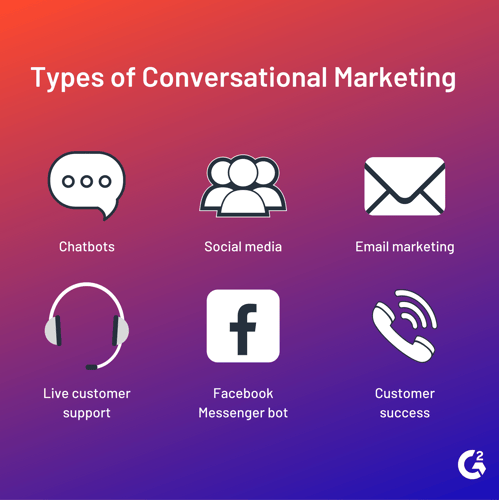 There some procedures that you need to deal with up to make conversational marketing a successful one.
Choosing the appropriate places
Have in touch with traditional marketing
Proper planning
Excellent customer relationship
Make actions to make the visitors more engaged
Use simple process
Test everything before reaching the customer
Have consistency in follow up to have average growth.
Conversational marketing tool
According to my knowledge there some conversational marketing tool that takes your business to the next level. They are WP forms conversational forms addon, Facebook messenger bot,chatfuel, Botfuel, Drift, Databox, etc.,
It is time to take the business in digital through conversational marketing. The conversation is the tool that will exist till people exists. People are getting satisfied through the exchange of thoughts, and they are getting a clear idea of that.
Making conversational marketing sufficient will makes the brand to sustain in a market for an extended period.
Do you agree that conversational marketing will make the people get engaged with the brand more? Leave your thoughts in the comments.
Signing off,
Gana